We face a new breed of marketing and advertising. Understanding customer behavior across media channels, communicate effectively and create brand experience are daily challenges facing anyone in marketing or management. People use and collect information differently today than some months ago. Unfortunately most businesses are still communicating as usual.
With this in mind, you can expect to find thoughts, view points and experience that encompass us to act more effectively as we learn more about how customer perception are influenced in our high-tech world. As new technology, collaborating platforms, social media and communication channels is changing consumer behavior, businesses and professionals need to understand the driving forces within these changes.
Welcome to mandal.com

Henrik Mandal
December 18, 2012 6:30 pm | POSTED BY henrik |
0 comments
I just read a very interesting blog article that I believe most business and technology managers will find useful. As you might recall, Mark Zuckerberg said earlier this year that Facebook has lost 2 years of mobile development with their implementation of Facebook on HTML5 and claimed this was the worst mistake Facebook had ever done, and should have developed for native systems.  According to Zuckerberg, using open web standards resulted in a horrible and slow app that ruined the company's mobile future, because HTML5 wasn't ready.
This statement made some mobile HTML5 developers upset at Sencha (a popular HTML5 application framework) as they believe that it was not to blame the HTML5 open standard that the Facebook mobile team could not make a faster app. To prove their case, they have cloned some of the most complex programming of the native Facebook functionality on HTML5 using the Sencha framework.
Must admit that I am pretty impressed with what the development team at Sencha has produced in short timek taking into consideration that some of the application part actually is rendering and is more user friendly than Facebook's own native app.  The result was Fastbook, a HTML5 version of some of th most complex programming features of the Facebook native app.
Here is a quick demo of how Fastbook is being presented by the developers at Sencha.
I believe this is an HTML5 Love Story that emphasizes the power of mobile web applications made well. As the discussion is still hotter than ever, I think there are both business and technology directors will give HTML5 a bit more respect now. As with most development projects, it is not the technologies, standards or framework that in many cases performance issues for applications, but how the code is constructed and features are implemented. So remember that bringing in a senior architect or project manager can really make the difference.
You can test the Fastbook yourself on: http://fb.html5isready.com/
December 6, 2012 1:28 pm | POSTED BY henrik |
0 comments
Google just announced the support of private channels in Google Play, the market's leading app store for Android devices. This is a very smart move from Google as they now allow Google App customers to create their own private channels in the Play Market.
With the launch of private channels, Google App customers can now distribute internal apps to its employees and partners via Google Play. This can be applications to book a meeting room, request holiday leave, internal messages and project management tools. The apps listed in the organizations private channel is only available to users on the same domain as registered with the Google App service.
The private channels have the same functionality as the rest of Google Play, including support for paid apps. It is not yet clear if the apps from a private channel also will be available on the Web interface of Google Play.
December 2, 2012 5:20 pm | POSTED BY henrik |
0 comments
It's not a secret that iOS users have been more willing to purchase applications form App Store than users on Android, Blackberry or Microsoft. Now it seems that Android are quickly catching up on iOS users with a massive 311 % revenue growth of the Google Play this year compared to Apple's 12.9 % growth, according to a recently published report by App Annue.
The report covers free and paid app downloads in October from Apple App store and Google Play. From September to October this year Google Play revenues increased with 17.9 %, outplaying Apple with poorly 0,7 % revenue increase.
Downloads
iOS users are also downloading more free apps than Android users in total. But the distance between downloads of paid apps is only 10% difference from App Store. The total downloads this year is completely dominated by Google Play with 48 % increase, where Apple only reported 3,3 %.
Asia is a driving force
There is a large growth of Asian downloads in Google Play. Japan has now bypassed US in total downloads and pushed US to second place. Revenues from the Japanese market has more than ten folded since January this year in Google Play and the US revenues are only "doubled".
With a variety of new cheaper, yet powerful Android devices entering the Asian market I believe this is a trend that will continue in the future with fast competition from South-America and African downloads. Earlier this week, Ericsson reported explosive growth of new sim card activation in Asia and Africa with 94 million new subscribers, where EU and US only count for 3 million in the same period.
Asia is also quickly becoming the dominating content providers (app creators) on Gooogle Play, with seven out of ten most revenue generating app downloads belonging to Japanese and Korean publishers.
This is bad news for small independent app developers who need to monetize their apps from app stores. Mastering app stores is extremely important for anyone with free or paid apps. With apps inventory close to million apps, it is getting harder and harder for app developers to reach consumers. As the publisher overview illustrates, the app stores are now quickly being dominated with apps from Asian publishers who have globalized their content for a world wide audience.
November 28, 2012 10:24 pm | POSTED BY henrik |
0 comments
In the just released November edition of Ericsson Mobility Report they claim that China, the rest of Asia, and Africa together accounted for stunning 75 percent of new mobile subscriptions in the third quarter of 2012, with 38 million in China, 31 million in the rest of Asia, and 25 million in Africa. It is easier to understand these findings when we know that in the same period the penetration was only one million new subscriptions in western Europe and two million in North America.
40 percent of all phones sold in the third quarter, Ericsson says, were smartphones, but only 15 percent of the global phones is smartphones … so there is still a long runway for growth. In fact in this report, Ericsson is predicting smartphone subscriptions alone will reach 3.3 billion in 2018.
With close to 6.4 billion global cellular subscriptions and a world population of roughly seven billion, it would seem that almost everyone has a mobile phone or other mobile device connected to the internet. However, Ericsson, says, those 6.4 billion subscriptions are spread over only 4.3 billion people, meaning that many people have more than one plan … for example, a phone and a tablet, both with a cellular connection.
Important is to keep in account is that we still don't know the numbers for pre-paid subscribers, which is the main driver in Asia and Africa:
The full report can be freely downloaded from Ericsson website in PDF format or as a slide report.
September 27, 2012 9:27 pm | POSTED BY henrik |
0 comments
If you are an app developer or marketing mobile apps in the iOS 6 Apple App Store you are in for a surprise. With the latest update for iOS 6, the App Store is taking a huge step in the wrong directions and bringing massive headache anyone publishing and distributing their apps from the Apple App Store.
With the launch of App Store 6 we have seen an big overhaul of the App Store. On first glance consumers get's positively surprised with a new user interface (UI) and a different way to present the different applications available for users to download to their handsets. But after a sort while I realize that this overhaul is terrible for most app developers and marketers who strive to get their app a prominent placement and easy visible for their customers.
What's in a name – If it can't be displayed in App Store 6
This is actually the case with App Store 6. There is not enough space to display an app's name. As the screen show illustrates longer app names are displayed with the '…' extension. Now this should be a major warning bell for anyone who sees their own app listed as your appname …
It has always been an art to write short, exact and explanatory application titles and names. Now with App Store 6 this is more evident than ever. With applications listed perfectly in previous versions of the App Store, publishers now faces the fact that their apps are being abbreviated and not giving customer a clear meaning about what the app is all about.
If we look a bit deeper into the app inventory screens that are being displayed in the App Store front end, it might be an idea to re-think  the actual app launched logo and the screenshots presented for the users. I have always been a believer that an app launched logo should not display the app name and the promotional screenshots should be focused on the functions and benefits of the application, but now it might be smart to actually display the complete app name in creative visuals too.
An interesting observation is that Rovio has done exactly that with their smashing popular Angry Birds Space game.
So I advice app developers and mobile marketers to make some serious considerations and redo their logo creative to give  a clear and instant explanation of the app name if the title has been truncated.
Search has become ridiculous and stupid – What happened to smart search
With over half a million apps in the App Store, people uses search to find the apps they are looking for. Have you tried some searches in App Store 6? Also here I bet you will be surprised. Most search engines has an intelligent and smart search function that can suggest alternative and high interest results based on a basic search parameter. Well that is not the case with App Store 6. A quick search for "word puzzle" gives you an empty result screen as displayed below. Well, I rest my case and think this will cause a lot of apps never to be discovered in the new App Store 6.
New apps are not discoverable - There are basically no way to find them
Another massive and troubling finding is the way users can filter, browse and search the hundreds of thousands of apps in the App Store. In the App Store 6 there is no visibility for new apps. Apple has taken away the "Sort By Release Date" option that was present in previous versions of the App Store. As the screenshot below displays, the left screen shows the "Sort By Release Date" in the top bar and on the new App Store 6 on the right, this option is taken away.
The options now are: Paid, Free and Top Grossing.
Who the heck cares about Top Grossing?  That's just all the same stuff as in Paid and Free, but in a slightly different order.
Who cares about New Releases?  Anyone who wants to see what's recently been added in a particular category.  For those of us interested in a particular niche, for example Sport or Live Score we quite like to check the category regularly to see what's new. Has my favorite site finally made an app for my iPhone? Now there is now no way at all to do this.
For most developers and app marketers, this is terrible news.  Although it's only for a short period, the "new release" exposure is extremely valuable.  It's the applications opportunity to grab people's attention, build the initial user base and gauge the public's reaction without needing to spend a fortune on marketing outside the App Store.
The new system only gives exposure to titles that are already in the charts.  There is absolutely no way of being discovered unless a user is linked to your app directly, or searches for the app by name.
Mastering App Stores
For 4 years now I have been speaking in conferences, consulting and advising app developers and marketers to master the app stores to achieve broad and effective exposure in the app stores. The move we now have seen with App Store 6 gives some clear indications that the app stores are truly becoming the gatekeeper how users find your apps. Will we witness similar moves from Google Play Market, Amazon App Store, Opera Store, Samsung Apps or GetJar to mention a few major and extremely popular app stores.
Interested in learning more on how to Master the App Stores? Check out one of my previous presentations and please get in touch.
January 20, 2012 5:07 pm | POSTED BY henrik |
0 comments
There is with moderate enthusiasm the market is waiting for Microsoft's WinPhone to gain market share from Apple, Android and RIM. But we have seen it before, when iExplorer made KO on Mozilla Netscape almost 2 decades ago. Their strategy has not been very effective as of today, but there are some research organizations that are still expecting huge growth for WinPhone this year.

Microsoft WinPhone – Foto: Nokia
The analysis for Q3 2011 was only poor 2% penetration, but in their defence this was before Nokia launched their new Lumina models. Some of the previous predictions on market penetration of WinPhone has been very optimistic and just recently the research organization IHS still believes hugt growth with the Micorosoft/Nokia alliance. According to IHS, there will be more WinPhones than iPhones by 2015. The predicted lead is minimal, with only 0.1% lead to WinPhone.


Interesting enough it is expected that WinPhone will not steal market share form Android or iPhone, but from Nokias own platform Belle (which is the new name for Symbian). IHS also estimates that 50% of all sold WinPhones in 2012 will be delivered by Nokia, which is a substantial amount of devices, bringing WinPhone to a total 9% market share in the mobile space.
Another important growth factor is that with Nokia onboard as leading device manufacturer, it is expected that HTC, Samsung, LG and Motorola will also follow, so the number of devices available in the market will heavily increase over the next years.
I am excited to see how this saga ends, but I encourage more mobile OS platforms to be supported in the market, as this gives the consumers a better choice of variation.
December 29, 2011 10:21 am | POSTED BY henrik |
0 comments
According to Flurry, an appstore monitoring service, Christmas Day achieved all time high download on both iOS and Android devices. Amazingly 242 million apps where downloaded December and 150 million just on Christmas Day. The average December download growth (except Christmas Day) is close to 125% growth.
According to New York Times, over 6.8 million new devices has been activated this holiday season compared to the 2.8 million activations from last Christmas.
Summarized, the mobile app phenomenon is still growing very quickly; smartphone and tablet owners can't resist buying apps. The iTunes App Store has earned over $3 billion for app developers, Tim Cook, Apple's chief executive, said at an iPhone event in October and Android Market and WinPhone Marketplace are also reporting high increase in app sales this year.
December 28, 2011 5:34 pm | POSTED BY henrik |
0 comments
Microsoft has reached a milestone when reaching 50 000 apps in the WinPhone Marketplace. According to All About Windows Phone who monitors market information reports that the appstore has received a fast growth the last month, where over 10 000 apps have been submitted to the Microsoft appstore.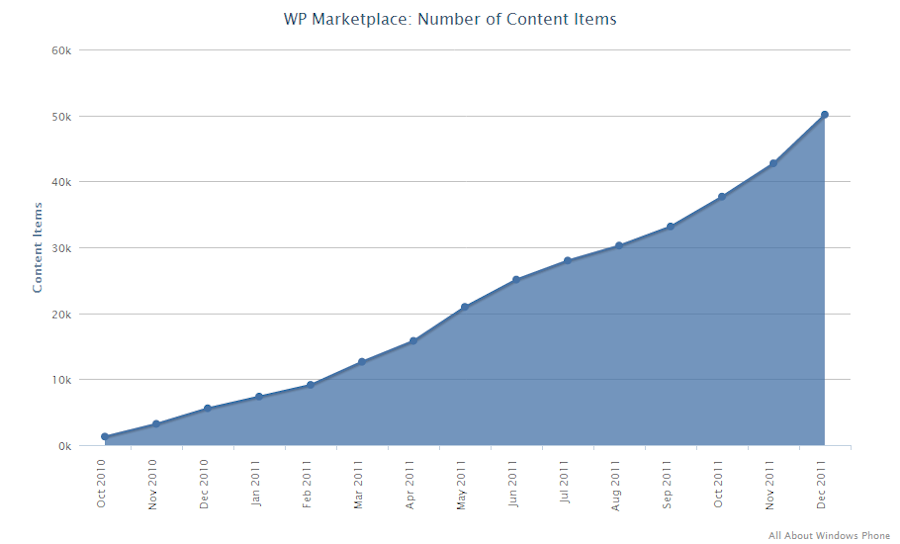 Source: All About Windows Phone
It is clear that appstores are on the arise these days with Apple appstores and Android Market celebrating huge downloads of apps so I am pleased to hear that Microsoft finally are getting a larger app inventory to offer the market. An interesting observation will soon be to see how the storefront will attract paying customers to purchase the apps available. At the 50K milestone, the majority of apps are still free for the Windows phone, but knowing Microsoft, this can quickly change.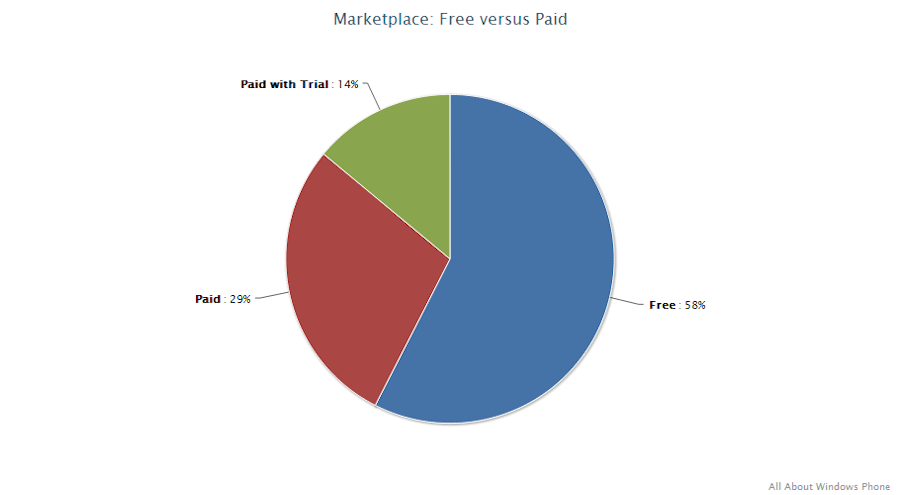 Microsoft did earlier this month announces a different commission model to developers in order to attract more quality apps quickly and this is perhaps just what has happened. With their 70/30 commission model (where Apple and Google offers 80/20) it might be what has made more developers support the Microsoft device environment and joined their ecosystem.
Now I bet we are all exciting to hear about the actual downloads figures from WinPhone Marketplace when it will available!